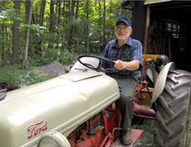 Family farms are threatened by low world prices for agricultural commodities as well as unending regulation. Farmers must be free to adopt new technology and enter new lines of business if they and their surrounding communities are to thrive in the 21st century.
How will Freedom to Prosper benefit family farms?
End the Estate or "Death" tax to keep the farm in the family
Eliminate the Republican-led increases in taxes and fees applied to farmers
Reform the property tax to exclude homes, farm buildings, and other improvements
Eliminate the restrictions on farmer's markets and where farmers can sell their products
Remove regulatory barriers to operating other types of profitable and creative businesses on the farm property
THE SECOND AMENDMENT & GUN CONTROL
Bill Peirce and the Libertarian Party are the only 100% supporters of the Second Amendment and your right to keep and bear arms.
Bill's ancestor Solomon Peirce was a farmer in Lexington, Massachusetts in 1775 when he was wounded in the first battle of the American Revolution. Bill Peirce understands that there are many reasons to own a firearm and law-abiding citizens should not have to explain why they want to buy or own a gun.
That's why restoring your unrestricted right to own and carry a firearm will be a top priority of the Peirce administration.